Hi friends! Today I am linking up with Britt from
The Magnolia Pair
to share our wedding cakes with you all!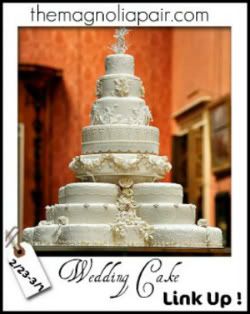 Zach and I were married on June 25, 2011 in our West Texas hometown. It was also my grandparent's 56th wedding anniversary, making the day all the more special for Zach and me. It was a perfect day, in our eyes, and we will always cherish our wedding memories. Zach is a little weary about retrying these cakes on our first anniversary come June; something about year old cake gives him the heebie jeebies. For those of you that have honored that tradition....was it worth it? How can I coax my hubby? :)

Bride's Cake
My cake was a five-tiered alternating mix of lemon and strawberry cake with fillings to match. Our wedding had a vintage theme with pearls galore, and we wanted the cake to represent that as well. Our florist added fresh flowers for a pretty pop of purple (say that three times fast!).
Zach's cake was a delicious red velvet with cream cheese frosting, his all-time favorite. He wanted something simple replicating the Texas "Come and Take It" flag.
Bride's Cake- Misty's Cakes in Abilene, TX
Groom's Cake- Linda Freeman in Sweetwater, TX
Photography- In Bloom Photography, Sweetwater, TX
Florist- Debby Bankhead, Sweetwater, TX
Thanks for reading about our sweet day, y'all!