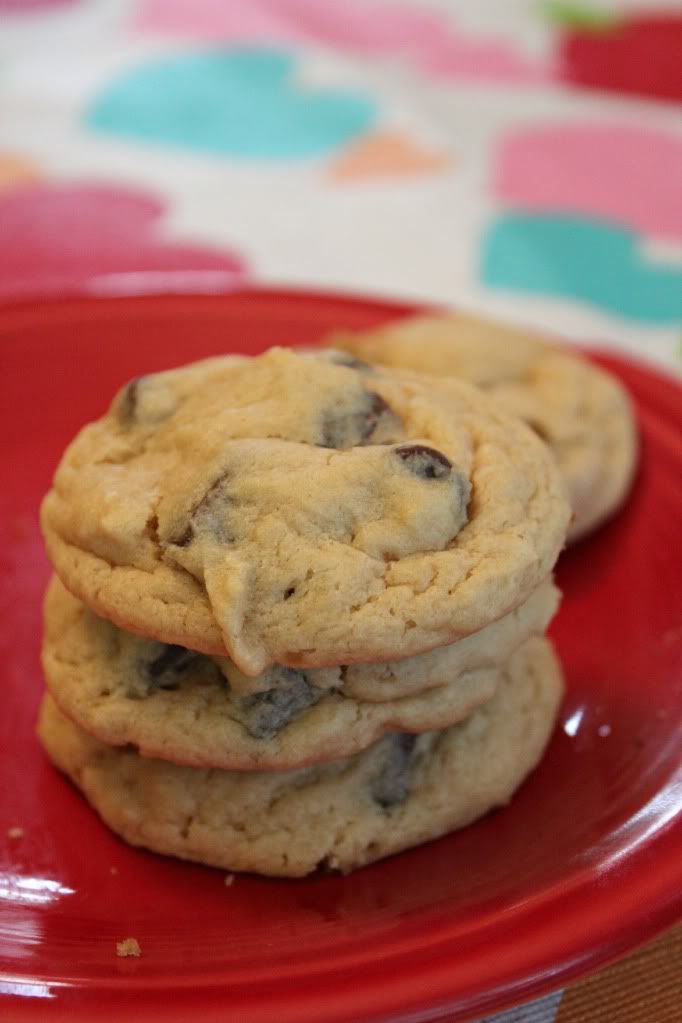 Zach often gets frustrated with my "random" baking. I'll throw just about anything into a batch of cookies; one time it was even an entire cookie within a cookie (seen here...for the record it worked!). So the other day when I told him I wanted to bake something, he politely informed me, "Boys really just like plain ol' chocolate chip cookies".
"Fine", I told him, "but I'm at least trying a new recipe". When I stumbled upon these easy chocolate chip cookies with Bisquick in the mix, I knew it was a winner. Plus we already had all the necessary ingredients. Score! Happy hubby, happy baker.
Super easy, super good. You can't, after all, go wrong with plain ol' chocolate chip cookies.
You'll need:
1 cup semisweet chocolate chips (6 oz.)
Directions:
Heat oven to 350°F. In large bowl, beat butter and brown sugar with electric mixer on medium speed until light and fluffy. Beat in vanilla and egg. Add Bisquick; beat on low speed until combined. Stir in chocolate chips.
Onto ungreased cookie sheets, drop dough by tablespoonfuls about 2 inches apart.
Bake 8 to 10 minutes or until set on edges and golden brown. Cool on cookie sheets 2 minutes. Remove from cookie sheets to cooling racks.
note: My first batch turned out a little flat (but still yummy!) so I refrigerated the dough for about 20 minutes and the second batch held their shape better (as pictured).